Contact Us
WIMS (PHILS) Exposition and Services Corporation
Room 104.RG Bldg 840 E, Rodriquez Sr Avenue Brgy, Immaculate
Conception Cubao, Quczon City, Philippines.
Tel/Fax: +63-2-4115123
HP:+63-9567927368/9567927359
CCPIT Sub-Council of Chemical Industry
Contact: Michael Zhao;Terry Zhao
Tel:+86-10-84292984;64283093;84255960
Fax:+86-10-84292987
E-mail:zhaoqing@ccpitchem.org.cn
zhj@ccpitchem.org.cn
Address:Rm468,Bldg16,Block7,Hepingli,
Beijing100013,China.
How to get there
World Trade Center , Metro Malina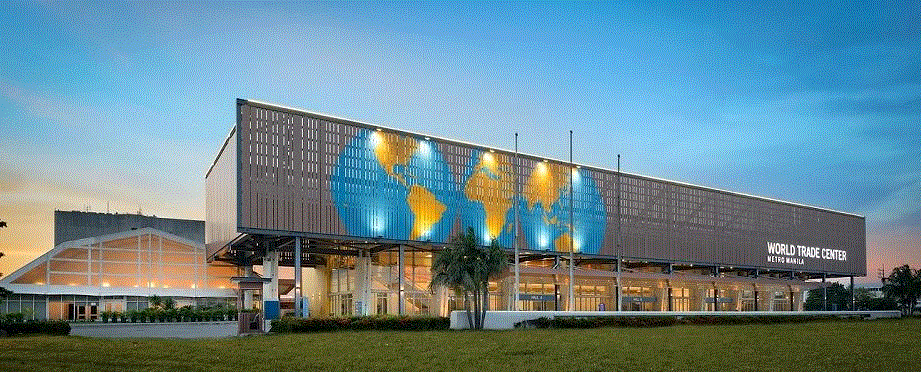 Address:
World Trade Center Metro Manila
2/F WTCMM Building, Gil Puyat Ave. Extension cor. Diosdado Macapagal Blvd.
Pasay City 1300 Philippines
The Pioneer and Standard for Exhibition Venues in the Philippines
A member of the World Trade Centers Association (WTCA) of New York, World Trade Center Metro Manila (WTCMM) is the first exhibition venue in the Philippines listed by the Union des Foires Internationales or UFI, the global association of the exhibition industry.
Opened in October 1996, WTCMM is a pioneer in the provision of a world class exhibition venue in the country. Its management and staff have unparalleled expertise and experience in delivering efficient service.
Preferred Venue for Prestigious Events
WTCMM is the preferred venue for international and professional events. Notable examples of these are the Asia Pacific Economic Conference (APEC), the Philippines having played host to it in 1996 ; National Women's Summit, where about 15,000 delegates were in attendance and no less than then US First Lady , Mrs. Hillary Clinton , was its Guest of Honor ; the Philippine Economic Basin Dinner reception that was attended by prominent foreign economic ministers of Asia ; the country show of France dubbed as "Le Rendezvous de France, " where replicas of the Eiffel tower and Da Louvre Museum were built inside the hall ; and, more recently, the 1st and the 2nd National Priests' Convention attended by 4,500 and 5,500 priests, respectively.

Strategically Located

WTCMM is the venue of many of the major exhibitions and trade shows that are participated in by foreign delegations and buyers from different parts of the world. World Trade Center Metro Manila (WTCMM) offers a fully equipped facility in a strategic location that offers excellent visitor mileage and accessibility to the international airport and seaports, entertainment and cultural facilities, five-star hotel accommodations as well as to Makati, the main central business district in the Philippines.