Contact Us
WIMS (PHILS) Exposition and Services Corporation
Room 104.RG Bldg 840 E, Rodriquez Sr Avenue Brgy, Immaculate
Conception Cubao, Quczon City, Philippines.
Tel/Fax: +63-2-4115123
HP:+63-9567927368/9567927359
CCPIT Sub-Council of Chemical Industry
Contact: Michael Zhao;Terry Zhao
Tel:+86-10-84292984;64283093;84255960
Fax:+86-10-84292987
E-mail:zhaoqing@ccpitchem.org.cn
zhj@ccpitchem.org.cn
Address:Rm468,Bldg16,Block7,Hepingli,
Beijing100013,China.
About Philippines
Philippine Economic Update
The Economy of the Philippines is the 35th largest in the world, according to 2017 partial estimate of the International Monetary Fund statistics, and is the 3rd largest economy in the ASEAN after Indonesia and Thailand. The Philippines is also one of the emerging markets.
The Philippines is considered a newly industrialized country, which has an economy transitioning from one based on agriculture to one based more on services and manufacturing. As of 2017 GDP by Purchasing power parity was estimated to be at $873,966 billion.
Primary exports include semiconductors and electronic products, transport equipment, garments, copper products, petroleum products, coconut oil, and fruits. Major trading partners include the Japan, China, United States, Singapore, South Korea, the Netherlands, Hong Kong, Germany, Taiwan, and Thailand. The Philippines has been named as one of the Tiger Cub Economies together with Indonesia, and Thailand. It is currently one of Asia's fastest growing economies. However, major problems remain, mainly having to do with alleviating the wide income and growth disparities between the country's different regions and socioeconomic classes, reducing corruption, and investing in the infrastructure necessary to ensure future growth.
The Philippine economy is projected to be the 16th biggest in the world by 2050.
Philippines Economy Highlights
• The Philippines remained a strong performer in the region, despite slow global growth.
• In the near-term, economic growth is likely to remain strong and accelerated to 6.8 percent in 2016 before tempering slightly to 6.2 percent in 2017.
• Poverty reduction is expected to continue if the country is able to maintain the relatively high economic growth and the more positive job trends in recent years, despite recent shocks to agriculture.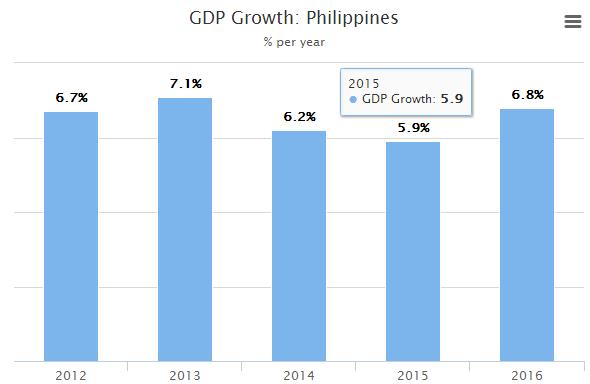 The Philippines remained a strong performer in the region, despite slow global growth. Among the major economies in the region, the Philippines is behind China and Vietnam only.
Sustained high non-agricultural growth and effective government programs are helping to improve the welfare of the poor. Recent estimates suggest that extreme poverty decreased gradually between 2012 and 2014. Extreme poverty is estimated to have decreased from 10.6 percent in 2012 to nine percent in 2014. After a decrease of only 0.3 percentage points between 2009 and 2012, poverty fell more rapidly between 2012 and 2014, according to revised purchasing power parity (PPP) estimates. However, high rates of structural poverty remain, especially among households depending on agriculture.
Prospects and risks
In the near-term, economic growth is likely to remain strong and is projected to accelerate to 6.4 percent in 2016 before tempering slightly to 6.2 percent in 2017. Faster growth in 2016 would be driven by favorable domestic factors. Private consumption would remain robust, aided by low inflation and spillovers from increased spending due to the upcoming general elections. Investments will likely support growth as implementation of private sector, budgeted infrastructure, and public-private partnership (PPP) projects accelerates.
These growth projections incorporate a number of risks which have remained broadly the same since the October 2015 edition of the Philippine economic update. The key risks are uneven recovery of high income economies, slower than anticipated growth of large emerging market economies, financial market volatilities, slower remittance growth from oil exporting economies, the continuation of El Niño in H1 2016, delays in PPP projects, and uncertainty around the outcome of the election.
Policies: A retrospective and forward look on how to create more and better jobs
With solid macroeconomic fundamentals and significant fiscal space in place, the Philippines can now accelerate the reforms needed to achieve more inclusive growth to reduce poverty and boost shared prosperity. Trends in recent years point to the beginnings of a more inclusive growth pattern, which needs to be sustained over a longer period before the poor can feel the impact of higher growth and better governance in their daily lives. In the last six years, the government preserved macroeconomic stability, promoted transparency, and directed the growing fiscal space towards pro-poor infrastructure and social services.
What is needed now is to consolidate the reforms made, embark on the next set of reforms and move ahead at full speed. In the short-term, deepening reforms in budget execution will allow the country to use its growing fiscal space to increase investments in both human and physical capital, with positive contributions to near-term growth and quality of jobs. Over the medium-term, accelerated structural reforms are needed to enhance competition in sectors with high impact on jobs (such as rice, shipping, and telecoms), securing property rights through more systematic and administrative adjudication of land rights, and simplifying business regulations to encourage the growth of firms of all sizes, while increasing tax effort and reforming the budget execution system in order to sustainably ramp up public investments in infrastructure and social services. In all these, priority is needed in Mindanao, where decades of conflict and weak, Manila-centric policies have kept it from reaching its potential. To accelerate reforms in the future, the government, business, labor, and civil society need to work more closely together to support a package of reforms that will help the country move full speed ahead to create more and better jobs.